Key Online Shopping Trends for Christmas 2017

As the yuletide shopping season fast approaches, ecommerce businesses everywhere are battening down the hatches and preparing for the storm of orders that will arrive around the mid-November mark.
---
The Centre for Retail Research reported two noteworthy statistics about the six-week lead-up to Christmas 2016
1) Online sales totalled £21 billion, accounting for 27% of all retail sales
2) Online sales rose by 12.9% compared to Christmas 2015
It's no secret that ecommerce is fast encroaching on bricks-and-mortar retail, but to see that more customers are choosing to buy online during the run-up to the festive period – which is traditionally a time of year when consumers are keen to get up and physically go out to the bustling shops – is telling.
With that in mind, what can we expect from 2017? Here are some of our predictions:
---
More Black Fridays, More Cyber Mondays
Price-slashing promotions such as Black Friday and Cyber Monday are now key events in the Christmas-shopping calendar. Last year, the discounts ran for several days rather than a single day. We expect more of the same this year.
This is a challenge for all retailers – bricks-and-mortar or ecommerce – but especially for ecommerce, because of the strain it puts on fulfilment departments. Not only do customers want their Black Friday and Cyber Monday purchases to be cheap, but they also want them to be delivered at lightning-quick speed.
Which brings us to our next point...
---
Quicker Delivery Expectations
As you'll no doubt have witnessed, the modern customer's patience wears thinner with each passing year when it comes to delivery speed. They don't care that the weeks leading up to Christmas constitute your busiest period of the year (by far) – they want to receive their orders as quickly as they would in April or June, no matter how big or small the retailer they're buying from is.
As such, any ecommerce business that doesn't offer expedient festive delivery is now in danger of being left behind. Consumers are fickle and will gladly take their business elsewhere in future if you can't provide the speedy service they demand the first time round.
You must also consider shipping costs here. Are you offering next-working-day delivery for free, or for an extra £3 per order, or are you charging £8+ for it? This matters to customers. Even though you're offering them fast delivery, they want to pay as little as possible for it.
---
Even More Mobile Shoppers Than Last Year
In September 2017, 51.89% of all internet browsing took place on desktops (which includes laptops). The remaining 48.11% happened on mobile devices (which encompasses smartphones and tablets). The below graph – with figures from StatCounter – shows how dramatically device usage has changed in the UK over the last 24 months.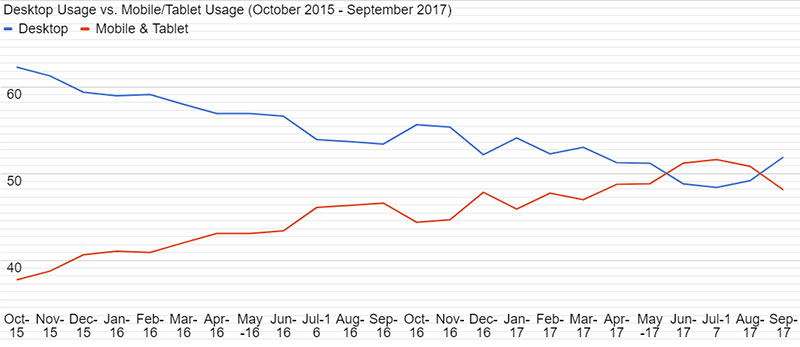 The two are now clearly neck-and-neck, compared to two years ago when desktop had a majority of 62%.
The Centre for Retail Research says that 42.3% of online purchases during Christmas 2016 were made on mobile devices – 53% of those devices were smartphones, and the other 47% were tablets.
To put the above into context, mobile devices accounted for just 8.9% of all online purchases during Christmas 2014 – so the landscape has shifted dramatically over the last two years, with mobile-device usage rising by 33.4%.
On top of that, we must bear in mind that Google rolled out its 'Mobilegeddon' algorithm update back in April 2015, the point of which was to stop mobile-unfriendly webpages from ranking highly in searches conducted on mobile devices. Mobilegeddon only affects mobile searches. But now we are awaiting yet another Google algorithm update: mobile-first indexing, which will mean that mobile-unfriendly pages will not even rank highly on desktops.
So what does this mean for Christmas 2017? Well, one thing is fairly certain: that 42.3% is more likely to increase than decrease this year, so no online retailer can afford to provide anything short of an exceptional mobile experience.
---
More Demand for Smooth User Experience
As we've already touched on, modern online shoppers are exacting and fickle. Competitive pricing and enticingly low shipping costs are certainly deal-sweeteners, but they won't mean anything if the customer has to endure a poor user experience (UX) on your website – whether that's on a desktop, a laptop, a tablet, or a smartphone.
What constitutes a poor user experience on an ecommerce site?
Unresponsive design (i.e. no mobile site)
Slow-loading pages
Unclear or incomplete navigation menus
A faulty basket/cart/bag function
A convoluted checkout and payment process
Low-quality or low-resolution product images
Low-quality or low-resolution product images
Too few product images
Missing, limited, or poorly written product descriptions
There are plenty more, but those are the big ones.
---
Need Help Preparing Your eCommerce Business for the Festive Season?
As online retail continues to usurp traditional bricks-and-mortar retail, ecommerce businesses everywhere need to be fully prepared for the volumes of orders that come in from November onwards.
If you need to strengthen your business's order fulfilment, Contact us today. We can give you the software and the expertise you need to stay up to speed with the constantly evolving world of ecommerce. From custom CMSs, to online marketing support, to full 'pick, pack and dispatch' fulfilment services,, we have the solutions.