Dan and Phil Shop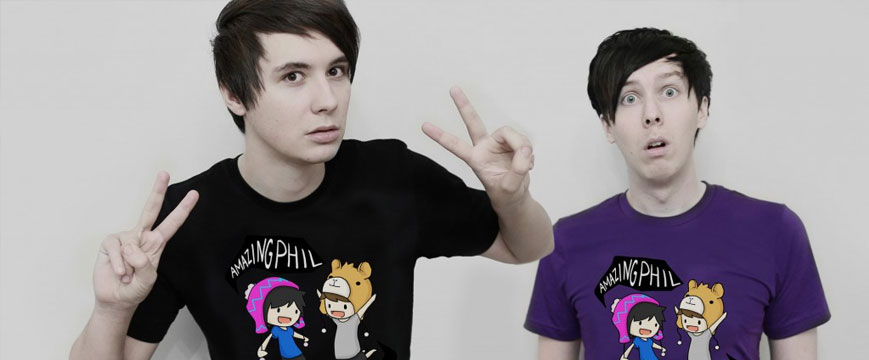 Sunday night Radio 1 DJ's Dan and Phil have a vast following on social media, close to 10 million people subscribe to their various channels, and owing to the incredible popularity of the lads among the young teen market, the merchandising potential for the Dan and Phil Shop brand is absolutely phenomenal. Well, all great brands need a robust infrastructure to support the popularity and that's where Exact Abacus step in.
The Solution
Since winter 2013, the Dan and Phil Shop have worked with Exact Abacus to bring to market new and exciting merchandise product to their fans. Their product-lines include a 'back to school' stationery range, signed posters, limited edition bangles, branded mugs, mobile phone cases and even a Christmas advent calendar!
In real terms, this entails the duo, and their business partner Martyn Lester, utilising the outsourcing services in full for order fulfilment and customer services. Dan and Phil's fans are able to order their products via the Dan and Phil shop website – the orders then feed directly into the powerful 3EX.NET Lite software, which allows the well-established fulfilment team at EA to batch-pick, pack and ship high-volumes of orders, often into the thousands presented in short and sharp bursts due to the immense spikes in online traffic to the website. A large portion of the orders are also international, which assists Dan and Phil in satisfying their fans in all corners of the world, including Greenland, Peru, Mauritius and even Bermuda!
Customers who wish to amend their order, or who have other customer service queries are able to contact EA's customer care team who are on hand to respond promptly with a fully armed repertoire of information at their fingertips, via shared access to 3EX.NET Lite.
Ultimately IRL Digital, who are the company responsible for managing the Dan and Phil merchandise, are able to benefit from flexible storage solutions combined with a versatile team of experienced staff to manage and run the business effectively. The technology in use facilitates unrivalled levels of transparency of service, along with a wide-range of reporting tools to enable the management to accurately evaluate inventory and sales trends.
This 'lean' approach offers the scope for sure-and-steady business growth, whilst maintaining a pragmatic grasp on otherwise high-risk commitments, such as premises, staffing, machinery such as forklift trucks and IT infrastructure.
The Result
Over 30,000 orders shipped in 2014 to 83 different countries
Rapid deployment of seasonal 'flash' sales products, such as back to school range and Xmas range
Handled over 3000 customer queries in 2014