ILG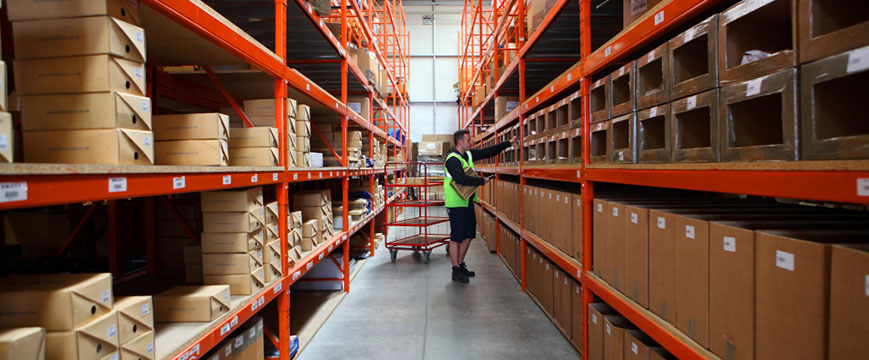 ILG specialise in fulfilment and distribution across the ecommerce fashion and beauty markets in the UK and worldwide. Boasting more than 700 customers and 200 employees, with a turnover of £24 million, these hugely impressive targets couldn't have been reached without the help of Exact Abacus.
When it was founded in 1990, ILG were a global distribution company for businesses dealing mainly in the financial, legal and banking sectors distributing printed matter. Towards the turn of the millennium it became apparent that the demand for these goods was on the decline. ILG knew it needed to create a new customer base, and with the rise of the internet presenting a new sales platform ILG decided e-commerce was the way to go.
The Solution
Mike Stephenson, managing director of ILG, reports: " We needed a system that would give us control and visibility over all parts of our business, whether that was in finance to automate creation of client billing and automatic validation of carrier charges to client dispatches, connectivity to the clients own commercial web and marketplace platforms to automate order handling and stock control, a web presence for clients to view and interact with our fulfilment operations in real time, stock management for our clients or the warehouse management system with a view over our global warehouse operations. That is ultimately why we chose Exact Abacus, no-one else ticked all those boxes, especially not to their high standards. "
ILG began using Exact Abacus software in 2002 and upgraded ten years later to the newer version. Mike recognises that a strength of the Exact Abacus system is not just that it provides a well-rounded IT platform that offers ILG a window to the world, but also the working processes that support the IT.
Mike continues "For me Exact Abacus stands out because they don't just offer one thing. They offer a number of different services and a huge range of support. They provide more than an software solution, they really explore the needs of your business to develop something that is absolutely appropriate for the future challenges of your business.
"For us this is one of the most important things. Over the years our business has changed vastly and with that so have our needs. This can range from a process review in our warehouse or financial practices right through to a complete overhaul of our systems and business model."
"In 2012 we reengineered our entire business model using a whole new platform and Exact Abacus was beside us very step of the way. It's essential that they can handle the big changes and the small tweaks in equal measure. Likewise, they provided us with great service when we were a small business and continue to provide excellent service today.""
The Result
Mike understands the true value that a partnership with Exact Abacus has created saying "It's impossible to put a figure to how much our collaboration has streamlined ILG, the size of the difference would be impossible to calculate, without them we wouldn't have achieved our growth.
"Exact have helped us transition from a B2B company to a B2C company operating completely across the e-commerce, fashion and beauty Omni-channel sector."

"In our industry ERP software is a necessity, it's got to be completely reliable, free from downtime and have complete unity with real time. Consumers are used to having information at their fingertips and being able to check the status of the delivery and with Exact Abacus we can provide this flawlessly."

"One of the reasons our relationship has withstood the test of time is because not only do Exact create great end-to-end solutions they also excel in creating partnerships. Trust is absolutely paramount, not only do we implicitly trust the software, but we trust the people equally."

In the time that ILG have used Exact Abacus software they have grown from a business with 30 employees and a £4m turnover to a business of 200 employees with a turnover of more than £24m.

30 Active EA Fusion Channels including Shopify, Magento and eBay
Most orders shipped in a day: 10,910
Most orders fulfilled in a day 6,378
Most items fulfilled in a day 1,772,699